This is my first WW vid of the New Year. I have another one in the works, but that involves a lot of clip gathering and converting so it'll be awhile. I'm not sure how I feel about this final product, but here it is, and I hope you'll give me feedback.

Premise: The hallways are empty without our favorite WW staffers. Took me a long while to get empty hall footage, hopefully it works. Contains voice audios.

"Take me Back to the Start"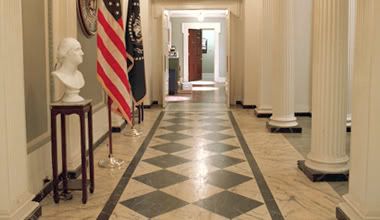 About: The West Wing Cast
Song: The Scientist
Singer: Instrumental & Coldplay
Seasons: TWW S1-S7
Genre: Tribute
Post Date: January 6, 2007
Preview with YouTube or at my Site.